Did you ever dream about hatching your very own prehistoric creature? Get ready to roar when lil' dino emerges from this egg candle. As the wax melts down, two beady eyes peek out first from behind the wick. Let the flame burn longer, and soon the bumpy, striped limbs of this porcelain mini-velociraptor's body will be revealed. Set the melting egg in the center of your coffee table – where it will surely spark conversation and cast a primeval glow. Perfect for all paleo lovers, no matter what age, the Hatching Dinosaur Candle is available online, with delivery expected in February, 2016.
If you're not into whimsical and cute dinosaur candles, but you love the idea of a concealed figure waiting to break free from its waxy cage, then check out these Dance and Embrace Spirit Candles. Sophisticated white pillar candles hold secret, mysterious sculptures that yearn to be released. The cast iron or bronze figurines surface elegantly and gradually from within thick layers of unscented wax. This classy design is ideal for decorating formal living spaces, and the sculptures can be polished for display once the candle has burnt away. Available in three poses, "Dance", "Embrace" and "Zen", all of the candles communicate tranquility.
Pyropet Cat Candles imbue your home with a whole different type of ambiance. This geometric wax cat sculpture coats a rather menacing feline inside. As the wax melts off and kitty sheds its skin, a haunting metallic cat skeleton is left standing. With angular hollow eye sockets and sharp, pointy teeth, this cat is well suited for those who take pleasure in the dark side of life. Available in pink or gray, the flame burns down the middle, highlighting the skeleton with an eerie gleam.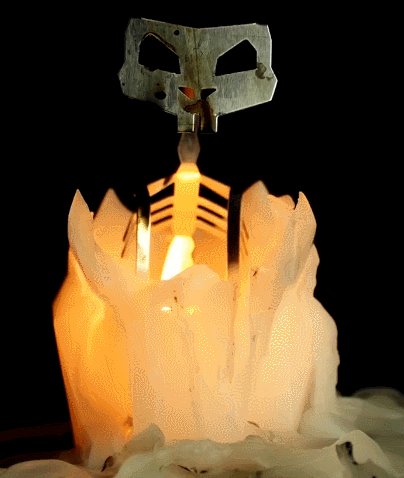 Whether your taste tends towards cute, elegant or macabre, there's a candle with a secret for you to reveal.